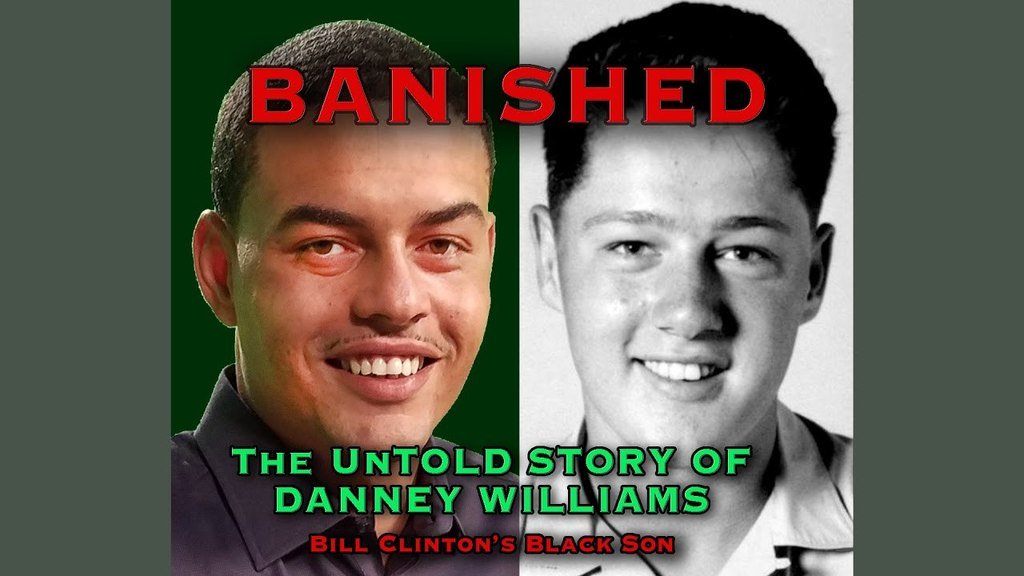 BANISHED: THE UNTOLD STORY OF DANNEY WILLIAMS, BILL CLINTON'S BLACK SON
"I always feel bad about him not wanting to be in my life. Was it because I was black? Was there something wrong with me? Why do you not want to be a part of me? It made me even think of sometimes suicide
"I have no doubt that I am Bill Clinton's son,' he said. 'It was common knowledge, everyone in Arkansas knew," Williams says in the video.
"Everywhere I went, they pointed out: 'It's Bill Clinton's son right there. You look like him, don't you? The ears, the mouth, the chin, the teeth, the eyes, the nose'. I see him in me.
"You can see a black Bill Clinton. When I'm brushing my hair I can see Bill Clinton with waves in his hair," he says
FULL TRANSCRIPT FROM VIDEO:
The truth is that in 1985, during the time I was conceived, my mother was a single parent raising two boys on her own. She would sometimes sell herself to men to make ends meet for her family. During this dark period in her life, Governor Clinton was the only Caucasian man she was having sexual relations with at the time I was conceived. In 1997, my mother passed a lie-detector test conducted by investigative reporters to corroborate her claimed that Bill Clinton was her only white suitor at the time she conceived her bi-racial son.
I have seen also the physical resemblance between myself and President Clinton—the facial features, nose, chin line—that strongly suggest a biological connection, which has been pointed out by thousands of people across the nation.
For 30 years, my mother has stood firm on the claim that Bill Clinton is my father, and never once has she recanted her story…nor has my Aunt Lucille, who bared witness to my mother's account.
According to my mother and aunt, when President Bill Clinton was governor, he took on some responsibility as a parent, by providing some financial assistance. They both told me that a man driving a car with state tags, placed an envelope of cash in my mother's mailbox every month and that the envelope always included seven crisp $100 bills. They also told me that an Arkansas State Trooper brought Christmas presents to our home for me every year. I read a retired State Trooper Larry Patterson also confirmed this in his book which I bought in a yard sale one summer. To me it seemed that President Clinton wanted to be involved in my life, even if it was only in the smallest capacity.
I believe that President Clinton is my father for multiple reasons. Aside from my mother's account of her relationship and the unwavering insistence of my Aunt Lucille, many individuals from different walks of life have reinforced these claims, some of whom knew me as a child or worked with my father. My existence and relationship to President Clinton is an open secret amongst the political elite circles in our home state of Arkansas.
I also know my Aunt Lucille took me, as an infant, to the governor's mansion to inform Mrs. Clinton that Bill Clinton was my father and demand that he support me. She snuck in the front gate when it was opened and demanded to see Mrs. Clinton. They slammed the door in her face. Arkansas State police officers literally chased my aunt and me from the building. They ran us off like dogs.
Lucille Bolton, a respected woman in her church, is alive and well and stands by this account. My Aunt Shirley, with whom I spent a lot of time when I was younger, backs the account.
More complete and verified DNA sample from Bill Clinton would serve to either corroborate everything I believe or put this matter to rest so that I can close this chapter of my life and move on.
Regardless of my timing, I have no political motivation; I am solely seeking the truth. For years I have made several attempts to have my story heard, but the mainstream media has ignored me.
Due to my persistence and the work of my family and many friends, my story has been spread and is being positively received. This has given me the courage to continue to speak out and ask these questions.
I hand delivered letters I wrote to my father, our 37th President, and gave them to the nice lady at the desk at the Clinton Library. I also mailed letters and pictures of his grand children to him in Washington, but he never answered.
I believe that if there is a chance for me to have a personal relationship with my father I should pursue it. In addition, now that I am a father myself, I want my children to know the truth.
At 30 years old with five children of my own, it is time for me to know the truth. I feel that if I do not pursue the truth now, I will regret my decision for the rest of my life.
Those who ask why I am raising this now don't know I have talked to every reporter who ever contacted my mother or me. I have been asking these questions on Facebook and the internet for almost two years even when I had to go to the Library to use the computer there. This is not about politics or money. For me it is about finding the truth and understanding, finally, who I am and where I came from.
If and when a DNA test proves that President Clinton is my father…I just want to meet him and shake his hand.
I want my kids to meet their grandfather, a simple man from Arkansas who became the leader of the Free world. In essence, I am seeking what all sons desire from their fathers—acceptance. That is all I seek.
It is my hope that my step mom, Mrs. Clinton, will not allow politics to interfere with my need to know the truth. That is why ask that Mrs. Clinton encourage her husband to do as I ask, to demonstrate her stated belief that all black lives matter, even those which might reveal an inconvenient truth.