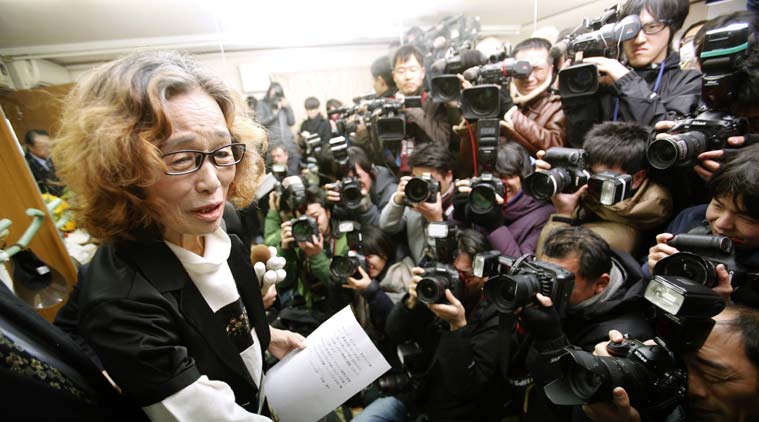 Japanese Stupidity was
immaculate. They sent Jordan to deal with Baghdadi hoping that Mediawhores will
influence ISIS to let Kenji Goto loose for free. Here's a loose change Miyagi-San..
Ransom ain't ISIS thing. It's a godsend blunder. Japanese were too thick to get
it.
Japan fucked up the whole bargain.
Go fuck yourself Potus. 'Oh we ain't negotiating with terrorists' BORING! Go look
for the word 'terrorist' in dictionary before you make mockery of yourself.
If Japanese still believe it
ain't Shinzō Abe's fault then they're Abasiophilia Omorashi.
It's time for Shinzō Abe to quit
fucking Japan; hara-kiri will be just fine and give the helm to Yakuza to run Japan
to beat China.
Yesterday I said to The
Associated Press Death Cheerleaders Duo Elaine Kurtenbach and Karin Laub: 'Don't
piss off Baghdadi. They ain't room ANY for dumb blonds' humor as in boring
Associated Press Cubicles. Beheading is imminent but would be on prime time'.
Baghdadi must behead the JACKASS
STRATEGIST who's loading him stooopid ideas. Al-Qaida Jane can wait. It's
foolish to waste $200M Big Fish Japanese Journalist Kenji Goto on ¢10 bait
Jordanian Pilot 1st Lt. Mu'ath al-Kaseasbeh barter. The Jordanian scumbag must
be shipped to Fallujah's 13'+Plus PHALLUS Donkey Molesters for Stern Ramming,
once its wide enough handover him honorably to David Duke to be lynched alive
over KKK Fiery Cross from his reeky rectum, skew his corpse over kerosene flame
until turns tar and distribute it among war orphans to lighten up their
campfire.
That's the least Baghdadi should
do to defuse hatred to Anglosexual Geographical Muslim Apostates Traitors and
heal Muslims Hearts. May Almighty banish 'em from planet earth. Amen Yarab
Alameen.
BAGHDADI GOT MY MESSAGE LOUD AND
CLEAR.
Last Tuesday I said: '$200M
ransom for 2 Japanese roadkills is Unislamic and it ain't worth it. Baghdadi
better off mending his blunder asking Japan to release 5000 innocent
Palestinian children kept in Israeli prisons' than money. Netanyahu will dole
Sarah's clitoris for a Mugshot with a Japanese jackass. Beware of kidnapping
Modi's Mother she'll bankrupt ISIS chewing Rajnigandha.
I SMELL EITHER TREASON OR SHEAR
STOOOPIDITY HERE. ITS 72HRS DILEMMA.
Transparency Needed. I hope
Baghdadi knows what he's doing. This unprecedented ransom request of Baghdadi
is fractional of Japan's Aid rendered to Warlords committing genocide against
Muslims elders, women and children in Syria, Iraq and AFPAK as we speak and yet
it's "HAVES" vs. "HAVE-NOTS" game that troubles me as releasing Yazidis
uninvited. Both precedents are very dangerous game changer. You're the bad
guys. Who the fuck cares whether ISIS pardon Japanese, release Yazidis or
masturbate on YouTube? Who the hell are you trying to impress? What $200M will
do to ISIS? I'll revere Baghdadi if he asked Abe release 5000 Palestinian
children in Israeli prisons.
Planet earth condemned ISIS: "a
good Muslim is a dead Muslim". Deal with it.
Selling Japan short at $200M
ain't smart. Japan is as Saudi both are hydrocarbon common thieves they enjoyed
stealing countries commonwealth while the real owners are starved to death.
Obama pulled out the rug from under duo feet; sending 'em to economical abyss.
The Feds now use Yakuza to print Japanese Yen outta thin air instead of Bank of
Tokyo. Now Japanese Prime Minister Shinzō Abe can go fuck himself in Jerusalem.
He's so desperate to be there.